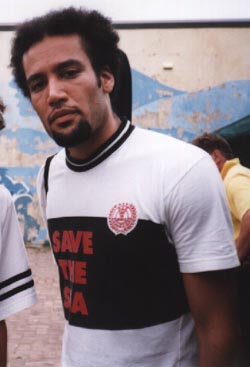 Thoughts On Ben
Ben Harper is one of the few true uncomercialised modern blues artists left on the planet - once a fan always a fan. Here is an extract from an article written in 'Juice' Magazine August '97:
"Harper, who uses a superb rhythm section to liven up some standard folk structures and a nice way with the glass finger guitar..."
"No, his real attraction lies within the smokey resonance of his voice. A quietly soulful whisper that suggests a heavenly mix of pop staples and Cat Stevens, it was recording his voice just right that gave 'Fight For Your Mind' it's lazy, golden ambience."
"Harper's gigs on both his tours have been memorable for his ability to get that quiet mood across onstage, stilling whole crowds with a whisper. It's not an easy trick, though one might have guessed that the rigours of touring would show in the follow-up. The Will to Live is by no means a dud. All Harpers trade marks are here, but it doesn't feel all of a peice. In short, it feels like 'a tour album' - Harper solo's all over the place and a number of the tunes are obviously jammed out. The pick of the bunch is 'Widow of a Living Man', A track about wife beating familiar from the tour."
"Other winners include 'Faded', which features scabrous bit of electric slide work while 'Mama's Trippin' is a fine Chicago style jump blues with some chicken horns on the end. As one might expect, the chops are non-pareil (Check the delta slide on 'Homeless Child') "